My Journey... as it continues
Horses are my dream and my passion, I love learning about them and all their individual ways and personalities, no horse I have ever met is the same, although many display similar traits, through this journey it helps us to understand a horses nature and then have the ability through the skills we develop to ask them questions, that we can set up in the best way for their individual nature.
My personal passion is Liberty, I just love it! along with everything that comes into developing a Liberty horse.
My speciality is foundation horsemanship, ground skills, pre saddle training, preparation to Liberty, young horse pre saddle training, problem solving. Preparation for riding.
,I of course love riding to but if I had to choose it would be Liberty all the way!
Since leaving Parelli I have been continuing my personal horsemanship education with some fantastic mentors, Frederic Pignon, Magali Delgado,  Emma Massigale, Ben Atkinson and  David Lichman.
I am privilege to also co own Organised Equestrian Events, which is a company that I have been developing with my good friend since 2014! We are so lucky to host clinics with a develop educational pieces with some of the best Horsemanship trainings in the world, through doing this my education of fantastic horsemanship is pretty varied, now what I teach is really a combination of my personal education to date, always putting the individuals horses and the owners needs at the forefront.
This section was updated 2021.
My Journey - below is until 2018 ish, mostly focusing on my Parelli 2* journey and my younger years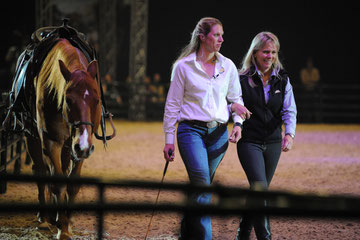 Ever since I was young and we used to go camping in the New Forest  I wanted to get closer to horses, watching the foals play and seeing how much fun they were having but also how gentle they could be really made me want to be apart of the fun! I remember coming back and watching the Black Stallion one rainy day and that was it I was 'Pony' crazy from there on!!
I spent years helping out at stablse  in exchange for rides until my Nan brought me my first pony,  Solly at the age of 12, he was perfect in every way.
Over the years I have spent time in Pony Club, local riding clubs,sponsored rides, riding out at racing yards, local show jumping and generally surounding myself as much s possible with horses when ever I wasn't working.
I was first introduced to Parelli about nine years ago now when my sister brought me a ticket to a demo for my birthday - I could not believe what I was s
seeing, Liberty especially blew my socks off!!
But it was not until a few years later that I really got started, I had a young horsei, who I first followed the home study programme with.
My journey with him had many challeges, both physically and emotionally, and through this complex young horse I needed help from Insturcutors in the field and the Parelli Center to  improve my Savvy so that I could help my horse.
In 2006 he broke his leg so whilst he was taking it easy I went out to the Parelli Florida Campus to excellerate my Savvy, whilst I was there I knew that my dream was to become an instrucutor - I had just passed my level one!
In Nov 2009 I was lucky enough to  win a lesson with Pat Parelli himself, this lesson took place in the UK with my horse Rocho.
In January of 2010 I headed out to Florida and spent 3 months on the Parelli ranch doing an externship, I returned home as a 2* Junior Instrcutor.
 I then pretty much gave up my normal job in events to teach, but have continued to coorinate for my good friend 3* instructor Rachael Morland.
Since becoming an instructor I have spent time teaching across the UK and at the UK center on  Fast Track Courses, Horse Behaviour & You  and workshops.
Since becoming an instructor I have returned to the ranch to do two months Internship at the start of 2011 and then again in the November for the Game of Conact course with Linda Parelli.
In April 2011 I was given the opportunity to have a lesson with Linda Parelli at the UK Celebration in front of 6000 people, i fyou would like to read more about this please take a look at Linda & my blog about the lesson
http://linda.parellinaturalhorsetraining.com/2011/04/horses-dont-think-like-people/
 http://central.parellinaturalhorsetraining.com/bio-of-larisa-tasker/
My personal horsemanship goals are to be able to connect with horses and play with them to their full potential,  to reallly dance with a horse, and to advance my dressage and jumping.
I am currently teaching all over the UK and having a fantastic time sharing what Parelli has shared with me.
I am based in Bucks, but teach all over the UK & Europe